Join Date: Aug 2011
Location: Boston
Maserati Life Posts: 797
Mentioned: 0 Post(s)
Tagged: 0 Thread(s)
Quoted: 50 Post(s)
Alignment Analysis | What did they do (or not do)??
---
Just had the Range Rover algined at a big name tire installer (4 brand new Michelin Lattitude's $$$), and at first glance I am not happy with the before & after numbers. To me they did a hack job aligning the car...
For those of you who are well versed in alignments, did they do a sh***y job or is this acceptable? Looks to me they did nothing on the front caster, right front camber is still out of spec, and rear toe is totally off.
Before I go by there and make let them know my dissatisfaction, I have to have a better understanding from those who know a lot more than I do here. Please share you informed expertise.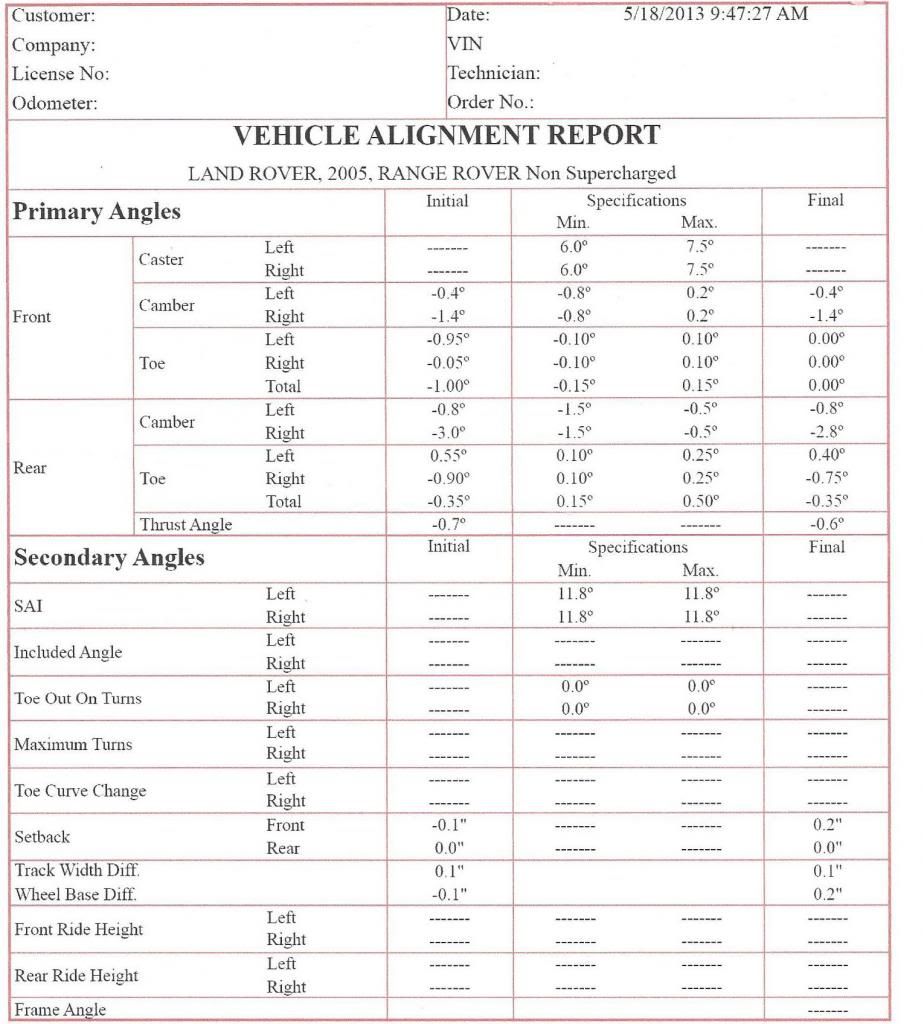 ---
Former '85 Biturbo E owner 25+ years ago.

Current cars: 2019 Volvo XC60 T6 Inscription | 2017 Jaguar XE R-Sport | 2012 Aston Martin Rapide
Join Date: Aug 2013
Maserati Life Posts: 6
Mentioned: 0 Post(s)
Tagged: 0 Thread(s)
Quoted: 0 Post(s)
Very strange? As also to give you the stat's on the report, at my dealership we set rear and then front castor and camber and then toe, by the book and I always get them 98.0 percent dead on, and then the print out always shows it and also the client sees it.So the place you took it to should have a lot to answer for, the negative toe in at the rear is compensating for something , e.g bent rear tie rods or a poorly trained tech that has no idea and that your car was rushed and pushed through. Money back and how does it drive ? Take them for a test drive and see how it pulls when braking or crabs when coasting.Hope this was helpful and all the best of luck..